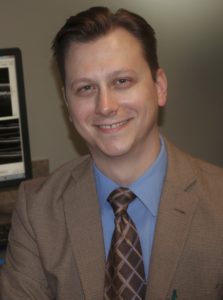 Nicholas Wolf, O.D, F.S.L.S is a native Hoosier who completed his undergraduate degree in Biochemistry from Indiana University Bloomington and then went on to attend the Indiana University School of Optometry, where he graduated with a Doctorate of Optometry in 2008. He began practicing in Indianapolis before moving to Floyd County in 2012.
Dr. Wolf received extensive training in eye disease diagnosis and management at Eye Surgeons of Indiana based in Indianapolis as well as at the Dayton, Ohio VA eye clinic.  Because of this experience, Dr. Wolf practices full scope optometric care with a special interest in ocular disease evaluation and treatment, including glaucoma, macular degeneration, corneal disease, as well as cataract and laser refractive surgery co-management.
Dr. Wolf is an expert in specialty contact lens fitting for ocular diseases including Keratoconus, Pellucid Marginal Degeneration (PMD), and after corneal surgeries such as corneal transplants (PKP) and refractive surgeries like Radial Keratotomy and LASIK.
Dr. Wolf is one of the very few contact lens fitters in the greater Louisville area trained, proficient, and experienced in Scleral Contact Lenses, Hybrid Lenses, and other specialty hard contact lenses.  He has continually upgraded his knowledge in these arenas as new lenses, techniques, and studies have become available to provide his specialty contact lens patients the most advanced possible care.
Dr. Wolf is also a Fellow of the Scleral Lens Education Society.  Fellowship involves demonstrating advanced skill and knowledge in the fitting and utility of Scleral Contact Lenses.  This is an honor held by only around 125 specialty fitters from around the world.  He also sits on the Scleral Lens Education Society's fellowship review board.
Dr. Wolf prides himself on his professional, personal, and thorough examinations. He strives to make patients feel welcome and comfortable while he addresses their eye care needs and educates them about their visual system.
Dr. Wolf lives in Floyd county with his wife and daughter and is an avid sports fan and counts himself as a loyal Indianapolis Colts and Hoosier faithful. As time permits, he is also an avid woodworker and many of the pieces seen in the office came from his home workshop.