The standard of care for Keratoconus has changed very little over the past several decades…

until Corneal Cross Linking!
For many years, the diagnosis of Keratoconus resulted in two things.  A visit to a contact lens expert like us to be fit with with specialty contact lenses, and a ticket to a game of wait and see.
Over the years the Keratoconus does often get worse, but how much worse?  There's simply no way to predict.
After a decade or two, the Keratoconus would either stabilize or the complications from the corneal thinning would reach the point that contact lenses were no longer effective.  At that point, approximately 12 – 20% of patients with Keratoconus would need a corneal transplant (or Penetrating Keratoplasty)¹.  This is an extremely complex surgery with a very long road to recovery.
However, this status quo mindset got a much needed jolt with the 2016 FDA approval of Corneal Cross Linking or CXL.
---
Is Corneal Cross Linking Experimental?
---
Not at all!  It is important to note that Corneal Cross Linking is NOT new.  Overseas and even in Canada, Corneal Cross Linking has been the standard of care for over a decade.
It simply took the FDA time, trials, and studies to confirm what the rest of the world already knew.  Given it's "off label" use, insurances didn't cover the procedure and surgeons were wary of performing a procedure that didn't have approval from the US Government.
As a result of the approval, that has now changed.
---
How Does it Work?
---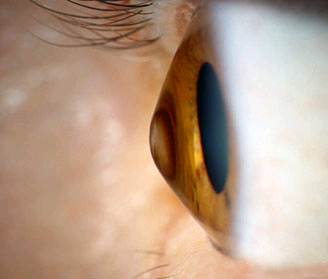 Keratoconus occurs because the elastic cornea becomes too malleable.  The internal pressure of eye causes the cornea to bulge and out-pouch (above).  As a result, the corneal bulging causes problems with vision and the progressive thinning leads to complications that may require a corneal transplant.  Fortunately, the human cornea begins to naturally firm up with age and the speed of Keratoconus progression naturally stops by 30's and 40's².

Corneal cross linking accelerates this natural hardening of the cornea.  This process uses Riboflavin (vitamin B2) and ultraviolet light at a very precise wavelength of 365nm.  This exact wavelength of UV light 'excites' the Riboflavin and causes new strengthening bonds to form between the collagen fibers of the cornea³ (above).  This new corneal strength lessens the likelihood of further bulging and corneal thinning.
---
Is Corneal Cross Linking Effective for Keratoconus?
---
Absolutely!  A recent meta analysis (a study of studies) showed corneal cross linking demonstrated a treatment success of 93%4!  In addition to arresting keratoconus progression, numerous studies and reports also showed beneficial flattening of the bulging cornea.  This resulted in improved corneal topography, less visual distortion, and lower prescriptions5.
While it is unwise to promise improvement in prescription from corneal cross linking, this side benefit does occur in a large percentage of patients.
---
Who should have Corneal Cross Linking?
---
The FDA approval of Corneal Cross Linking laid out fairly clear guidelines:
Minimum Age of 14 years old
Confirmed diagnosis of Keratoconus or refractive surgery induced ectasia WITH confirmed progression.
Minimum corneal thickness of 400 μm
In essence, the main reason to get Corneal Cross Linking is if the Keratoconus (or ectasia) is progressing.
 If the ectasia is stable, this surgery is not indicated.  However, for the first time in the US we have a straightforward procedure to proactively get ahead of this corneal disease.
---
What is the Procedure and Recovery Times?
---

Procedure
Corneal Cross Linking is a very straightforward, outpatient procedure preformed under topical anesthetic.  First the front surface of the cornea (the epithelium) is removed.
This step allows the Riboflavin (vitamin B2) to thoroughly and completely saturate the collagen fibers of the cornea.  After bathing the surface of the eye with Vitamin B2 for 30 minutes, Ultraviolet light at a specific wavelength is shown onto the eye for about 30 minutes (see left).
After the procedure the eye is washed and a bandage contact lens is applied to the eye for 5 days to allow the surface (epithelium) to heal.
Recovery
As the epithelium heals, the eye will be red, scratchy, and light sensitive; this is normal.  A bandage soft contact lens is worn during this time for comfort.  Full recovery usually occurs within the first 3-5 days after the procedure.
Vision often appears to worsen for about a month after the procedure due to  changes within the cornea.  This is not failure of the procedure and should be expected.
Specialty contact lens wear may resume as soon as 4 weeks after CXL as dictated by your surgeon.
Typically at 3 months after the procedure, the effects of the corneal cross linking have taken hold and stability is achieved.  Due to the beneficial flattening of the cornea with cross linking, usually your specialty lenses will be to be refit to adjust for this change.
Complications
Severe complications, like infection, are very uncommon after corneal cross linking.  Common complications included redness, irritation, and foreign body sensation, but this usually improves as the corneal epithelium heals in the first week.
Corneal hazing or clouding is another common complication after corneal cross linking, occurring up to 90% of the time.  This hazing gradually resolves over the next 3 months to a year and typically does not affect best corrected vision5.
---
Who Performs Corneal Cross Linking?
---
Corneal cross linking is preformed by a trained cornea specialist in an outpatient procedure.  We work with several corneal experts that we can wholeheartedly recommend for this procedure.
---
References: