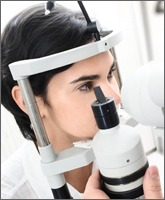 Doctors Wolf and Roberts have years' worth of experience and a passion for the treatment and management of ocular diseases. Through years of clinical practice and continual learning, your doctors at Precision Family Eye Care have become experts in the area of ocular disease management. We position ourselves at the forefront of medical eye care through the incorporation of the very best technology and the use of evidence based medicine to guide your treatment plans.  We also work closely with your primary care physicians to aid in coordination of care and have close working relationships with local ocular surgeons. Feel comfortable trusting your eyes to these professionals.
---
Precision Family Eye Care offers a wide range services for ocular disease management.  These services include, but are not limited to:
ocular allergies
viral conjunctivitis (a.k.a. "pink eye")
bacterial eye infections
contact lens induced problems
ocular trauma/injuries/abrasions
many others…
In addition, we also provide minor surgical procedures such as foreign body removal and punctal plug insertion, a minor procedure used to treat dry eyes.
Whether your problem is simple or complex, Precision Family Eye Care is your all in one destination for complete eye care.
In the instance that you require surgical intervention for you eye condition(s), we will arrange a consultation with a trusted local surgeon.