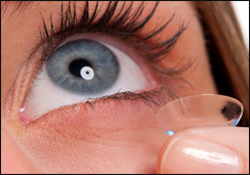 The technology of contact lenses has come a long, long way in the past 20 years, solving most of the problems that people associate with these medical devices.
"Contacts lenses irritate my eyes"… Done!… more natural and wettable materials to improve comfort and better dry eye treatments to make contact lens more tolerable.
"I can't wear contacts because of my astigmatism"… yes you can with new toric technology!
"But I'm over 40 and need to wear reading glasses with my contact lenses"… well, let's talk about Bifocal Contact Lenses.
---
At Precision Family Eye Care, we stay current on new advancements and strive to bring your eyes only the best from the vast contact lens market.  We are proud to provide a full range of contact lenses, brands, materials, and services that keep up with today's technological advances and improvements.  We skillfully fit all contact lens types: from near sighted, far sighted, astigmatism, hard, soft, to even bifocal contacts, as well as specialty contact fittings for ocular diseases like Keratoconus, extreme Dry Eye, or after eye surgery.
---
Please remember, when you are buying contact lenses, you are not just buying a product – you are buying the competence and the experience of a doctor who has prescribed and provided them for you.
We are so confident that you'll love the vision and feel of your contact lenses that if you're not completely satisfied, we will buy them back.
Yes you read that correctly, we are committed to a precise and hassle free experience and with our Guaranteed Contact Lens Success Program, the satisfaction of any soft contact lens products purchased from our office is guaranteed!
---
Click Below to learn more about how these lenses work!  
---
---
---
---
---